SANTA PRESENTPARK
How much do you want to go?

3.9

(28 person evaluated)
A spacious ski area with a view of the town
The front course is wide with few trees and makes you feel as if you are becoming one with the scenery. You will feel as if you are jumping into the night view.
Basic information
Average snowfall
100 cm
Number of courses
6 courses
Maximum slope
25°
Maximum skiing distance
1,000 m
Hours of operation
9:00 a.m. – 9:00 p.m.
* December 31: 9:00 a.m. – 4:00 p.m. January 1: 11:00 a.m. – 9:00 p.m. (scheduled)
Days open
Early December
Days closed
Late March
School information: type, price
Santa Present Park Ski School
TEL: 0166-61-8482
Access
By car: From Sapporo, take the Hokkaido Expressway. 15 min. from Asahikawa Takasu IC
By JR: 90 min. from JR Sapporo Station to Asahikawa Station, 15 min. by car from Asahikawa Station
By air: 45 min. by car from Asahikawa Airport
Bus: Dohoku Bus Line 55 TEL: 0166-23-4161 * Winter only
Address
555-2 Tomioka, Kamui-cho, Asahikawa, Hokkaido
Night skiing available
Yes
Other features
Enjoy the magical mood of night skiing and the night view of Asahikawa!
Lift prices
Adults
Children
1 Ticket
350 yen
350 yen
Set of 5 Tickets
1,600 yen
1,300 yen
Set of 12 Tickets
2,600 yen
2,100 yen
2-Hour Pass
2,000 yen
1,600 yen
5-Hour Pass
2,500 yen
2,000 yen
One-Day Pass
2,800 yen
2,200 yen
Night Skiing Pass
1,500 yen
800 yen
One-Month Pass
21,000 yen
17,000 yen
Season Pass
45,000 yen
35,000 yen
Night Skiing Season Pass
30,000 yen
20,000 yen
Family Set One-Day Pass
(1 adult + 1 child)
4,000 yen
Rental fees
| | 2 hours | 5 hours | 1 day |
| --- | --- | --- | --- |
| Ski set or snowboard set | 3,000 yen | 4,000 yen | 4,500 yen |
| Junior ski set | 2,500 yen | 3,500 yen | 4,000 yen |
| Ski or snowboard full set | 4,500 yen | 5,500 yen | 6,500 yen |
| Skis or snowboard | 2,500 yen | 3,500 yen | 4,000 yen |
| Ski boots or soft boots | 2,000 yen | 2,500 yen | 3,000 yen |
| Poles | 700 yen | 800 yen | 900 yen |
| Outerwear | 2,500 yen | 3,500 yen | 4,000 yen |
| Cap or goggles or gloves | 600 yen | 700 yen | 800 yen |
| Fun ski set | 3,500 yen | 4,500 yen | 5,000 yen |
| Snowscoot | 2,500 yen | 4,000 yen | 5,000 yen |
| Sled | 500 yen | 600 yen | 700 yen |
Course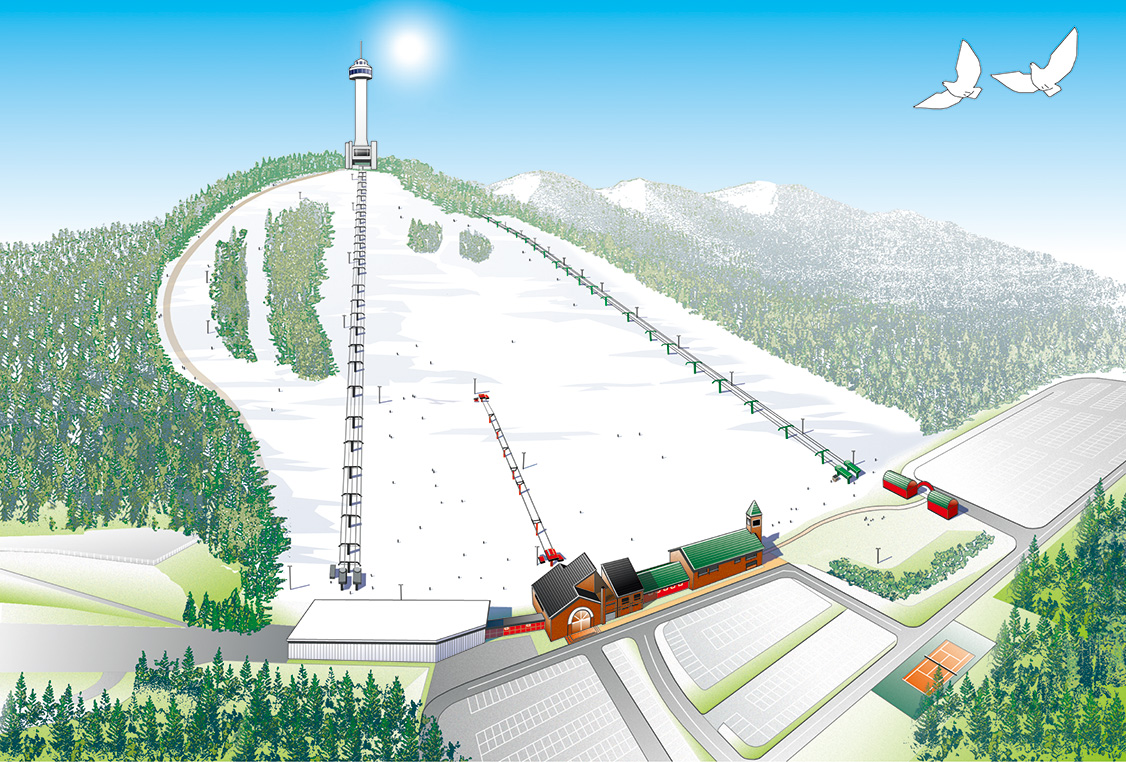 Rating
Your evaluation will be reflected in the total evaluation of this ski area. Select the number of stars you want to give it and click "Rating."