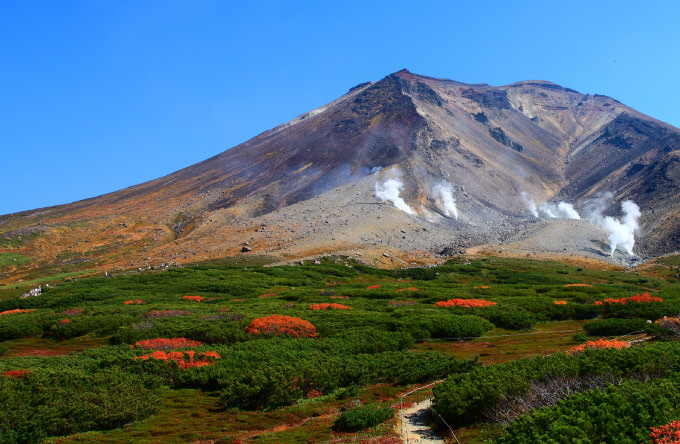 The Taisetsu area (the area managed by the Taisetsu Kamui Mintara DMO) is located in the central part of Hokkaido and is composed of one city and seven towns in the Kamikawa Basin.
Characterized by its inland climate with a wide temperature range throughout the year, this area has a large difference between daily high and low temperatures. Asahikawa, the biggest city in the area, recorded Japan's coldest temperature ever (-41℃) in January 1902.
The Taisetsu area is the largest area in Hokkaido, covering 440 km2 and spreading 20 km wide and 30 km long. The area has the weakest wind speeds in Hokkaido, despite being located at an altitude of 100–200 m, and is known as one of Japan's snowiest and coldest places, recording an average annual snowfall of 97 cm.
This climate makes the Kamikawa Basin, the largest basin in Hokkaido, a major production area for rice and vegetables in Hokkaido.
Located next to Daisetsuzan National Park, known as the "roof of Hokkaido," this area has long nurtured the Ainu culture with magnificent nature, and now offers breathtaking scenery and diverse outdoor activities throughout the year.
World-class powder snow, which can be experienced only in extremely cold weather, and diamond dust that glitters in the air can also be seen here.
Asahikawa, the area's central city, is the transportation and tourism hub of northern Hokkaido. It features train stations, an airport, and many hotels. It is a place where people and things come together — where fresh seafood and vegetables from the Taisetsu area and other parts of Hokkaido can be enjoyed in abundance.
Our DMO calls the Taisetsu area the "Mountain City Resort" – an area to be enjoyed with all five senses.